Georgiana Keable, grunder av Opsal Gård, har vært en pioner for fortellerrenessansen i England og i Norge.

På gården i dag bor unge mennesker fra Norge, Europa og Verden, flestparten i ca. en måned. Mesteparten av aktivitetene som foregår er helt konkret – for å støtte naturens krefter.

Men fortellinger spiller også en stor rolle. Ved å fortelle om, eller som en av de andre artene, kan vi nærme oss en respekt og til tider mer forståelse for våre omgivelser. Vi bruker tid på å observere, ikke bare kartlegge, men også å møte naturen med alle sansene åpne. Så bruker vi fantasi for å se for oss hvordan det kan oppleves å være et tre, en flue, eller en svale.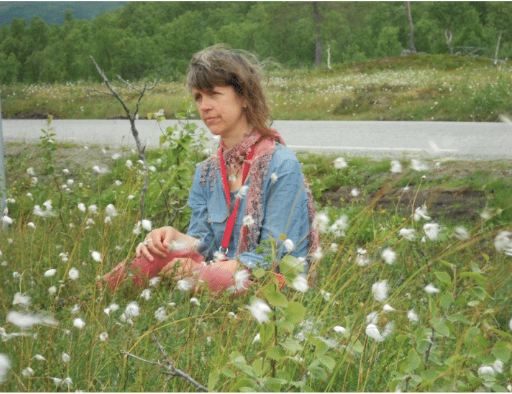 Georgiana var en av de første som begynte å jobbe fulltid som profesjonell forteller i London sammen med legendene Ben Haggarty, Pomme Clayton, Hugh Lupton, Jan Blake og TUUP.

Etter at hun flyttet til Norge i 1997 har hun grunnlagt: Fortellerhuset, Fortellerfestivalen og podkasten FortellerRadio.

Hun elsker miljøfortellinger – myter, botanikk, eventyr eller historiske dramaer. Med Per Jostein Aarsand har hun fremført fortellinger på Pilgrimsleden i Oslo i 10 år med bl.a. Oslo DKS.

Georgiana har gjennom 10 år fortalt årlig for ca 1000 barn ved Oseberghaugen, en fortelling om liv og død, rikdom og gleden av å gå barbeint (DKS)
I 13 år har hun jobbet med Klimafortelling for 8. trinn, og spilt moren til Thor Heyerdahl i hans barndomshjem i Larvik (DKS).
I tillegg har hun fremmet tospråklig fortelling siden 2006.

Hun har skrevet bøkene «The Natural Storyteller» og «Fairytales Families and Forests» som begge er utgitt på Hawthorn Press, og deltatt med material til mange andre bøker.

Hun har fortalt på festivaler internasjonalt i mange land, med reise overland mest mulig. I 2015 fikk Georgiana Oslo bys Kunstnerpris for fremragende innsats innen Oslos kunstliv. Mer om fortellervirksomhet finnes på www.georgiana.net og www.fortellerhuset.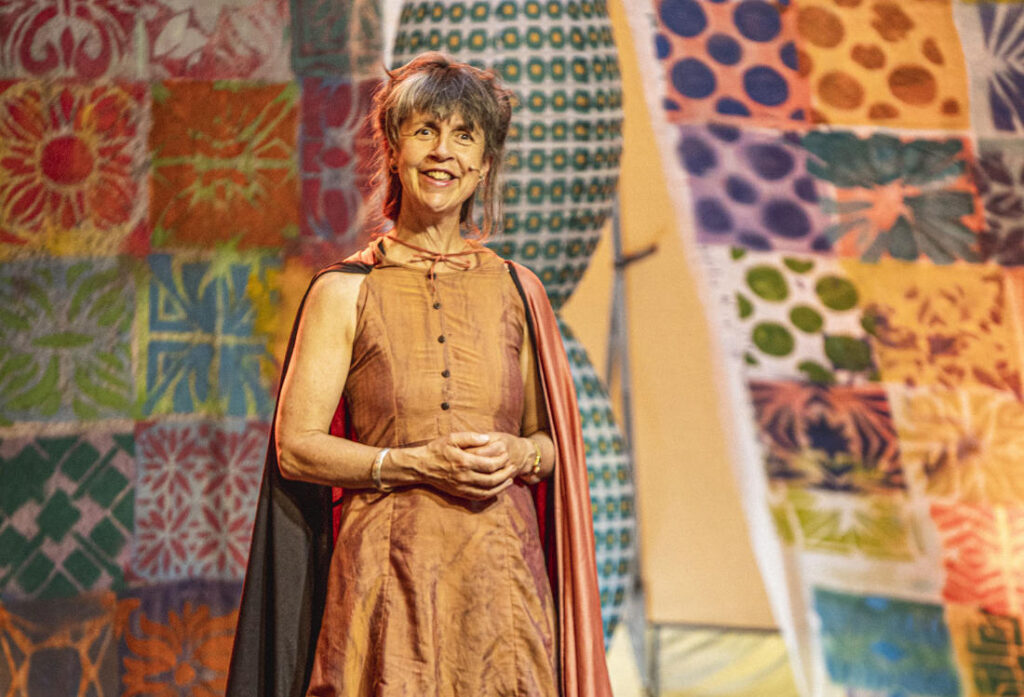 Boken The Natural Storyteller har vunnet to internasjonale priser.
Du kan finne den på Amazon eller hos forlaget Hawthorn Press. Den er også tilgjengelig som lydbok på alle lydbok apper. Her fra Storytel og på Audible
48 stories from across the world, arranged into chapters as follows: Story Heart; Story Mind; Story Tree; Story Animal; Story Bird; Story Earth; Story Water; Story Weather; The First Party.
Extras: Myths from the Land of You – creating a new story from your own life. Riddles, story maps, story skeletons, songlines, quizzes, planting a tree, wildlife tracking, making a story party – some of the activities included in the book that play with and reinforce the art of storytelling.
For teachers and parents: Story Sources – the background and origin of the stories; Using the Story – how each story can work in your local area and with your children.
The Natural Storyteller is full of dynamic story seeds.

When you open the book and read a story seed, you plant it in yourself, unleashing courage, creativity and love of nature.

True stories of environmental heroines and heroes, botanical tales of living trees. Stories gleaned from the treasures of world traditions, but re-visioned for today's child and told with great energy and panache.
Adventures between birds, animals and people. Fairytales from the forest and true tales of sea, earth and sky. Some so good readers will retell them at once.
Shared at bedtime or around the campfire under the stars, these stories inspire wonder and service for Mother Earth.
Here is a handbook for the natural storyteller, with story maps, brain-teasing riddles, story skeletons and adventures to make a tale your own; a vibrant invitation to embrace a world of stories all about nature, animals and plants – and our relationship with them.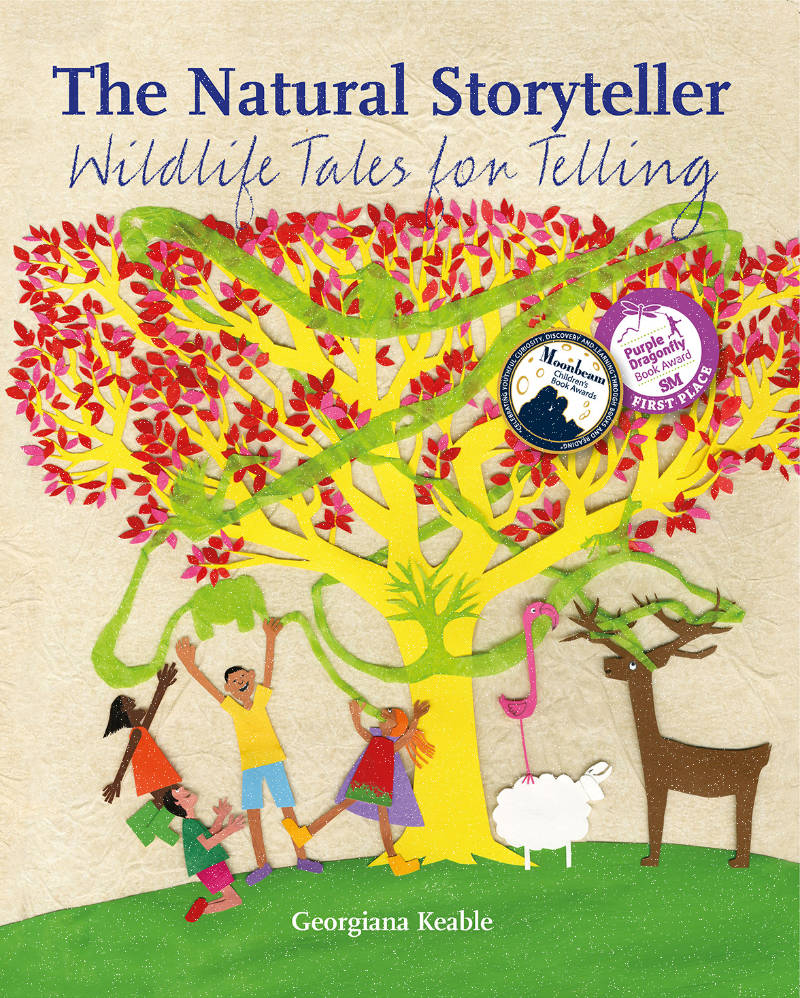 Georgiana Keable shows through a range of techniques – sometimes the power of the story alone – how to interpret, re-tell and pass these stories on for the future. This diverse collection of stories will nurture active literacy skills, and help form an essential bond with nature. The Natural Storyteller recently won first place in the Green Books/Environmental category of the Purple Dragonfly Book Awards.
Georgiana's nye bok Fairytales, Families and Forests er nå tilgjengelig og kan kjøpes fra forlaget Hawthorn Press.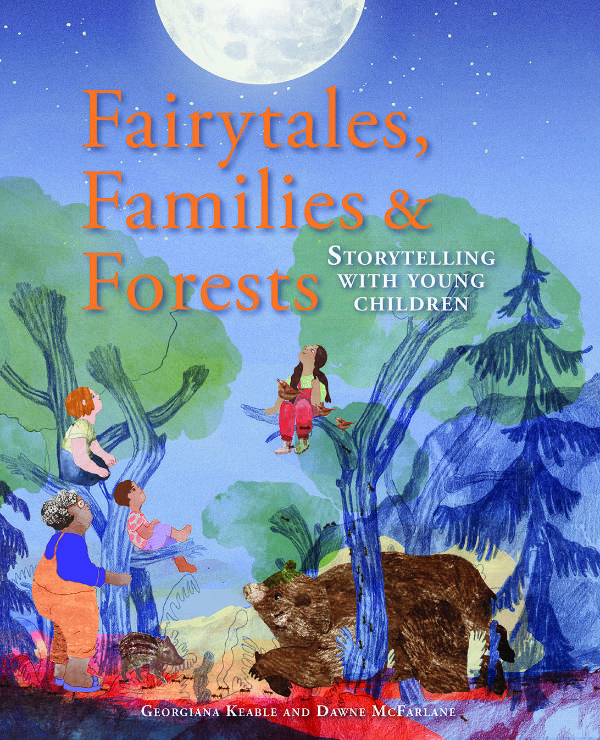 Du som vil fortelle for småbarn, har kanskje oppdaget at du allerede er en forteller.

At barna dine stirrer på deg med undring i blikket. Men det er ikke deg de ser på. De ser gjennom deg til en verden av magi og høye fjell som forbinder dem med naturen.
Boken er stappfull med spennende historier, sanglek og vers for barn fra 0 til 7

• en verktøykasse for foreldre, førskolelærere, spesial pedagoger og deg som underviser på småbarnstrinnet
• bygger tillit slik at du kan skape dine egne fortellinger og finne de historiene du trenger for å løse problemstillinger som er aktuelle
• en kilde for feiring av bursdager og av årstidene
• tydeliggjør språkutvikling gjennom fortellertreet
• mange historier om hvordan vi henge sammen med ulvungen, mus, bie, solen og månen.

Historier som nærer vår natur.
This superb resource and inspiration will empower parents, teachers and storytellers. Renata Allen, The Story Museum, Oxford
… opens the gates of wonder in ways that everyone can understand and share across the generations. Donald Smith, Director, Scottish International Storytelling Festival
What a magical and enriching book, filled with wisdom, knowledge and love. Danyah Miller, storyteller.
Sagn sanking
– ut på eventyr for å sanke historier.
Sommeren 2012 la Georgiana Keable ut på langtur i Lofoten, Senja og Vesterålen. På turen banket hun på døra hjemme hos folk og spurte 'Har du en historie for meg?' Akkurat som Peter Asbjørnsen gjorde 200år tidligere.

Dette var noe hun hadde ønsket å gjøre lenge. For å finne ut om det ennå fantes mange fortellinger hos den norske befolkningen som var uoppdaget. Historier om natur, om hvordan menneskene har klart å samarbeide med elementene opp gjennom tiden, om modige fiskere, om den ekte Huldra eller om hvordan folk har det akkurat nå. Men fikk hun noen fortellinger? Det kan du lese om på bloggen hennes
Og programmet fra NRK kan du høre på her